The Westover Inn
Establishment, food and lodging at 300 Thomas Street, Saint Marys, Saint Mary's, ON N4X 1B1, Canada. Here you will find detailed information about The Westover Inn: address, phone, fax, opening hours, customer reviews, photos, directions and more.
Opening hours
| | |
| --- | --- |
| Sunday | 07:30am — 08:30pm |
| Monday | 07:30am — 08:30pm |
| Tuesday | 07:30am — 08:30pm |
| Wednesday | 07:30am — 08:30pm |
| Thursday | 07:30am — 08:30pm |
| Friday | 07:30am — 08:30pm |
| Saturday | 07:30am — 08:30pm |
Rating
4.4 /5
Based on 5 reviews
Photos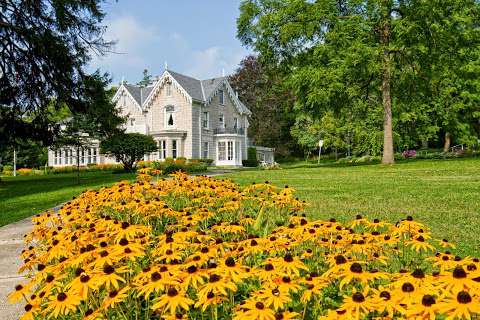 Reviews of The Westover Inn
Chris Rose Added 2018-11-03

★ ★ ★ ★ ☆

Room was nice and clean...a little small. Could use a fridge in the rooms and maybe a microwave. Had to pay for breakfast (was not all that great) and was not cheap

Mark Harewood Added 2018-10-25

★ ★ ★ ★ ☆

A beautiful little inn in the heart of Southwestern Ontario. I was in the area attending a wedding, and stopped in; immediately the ambiance and tone are evident in the architecture and attention to detail. The staff seemed a little harried, but I understand there were actually several weddings in the area, and this seems to be a popular spot for bridal parties, so their divided attention is totally understandable. Beautiful grounds, well kept up, and brilliantly placed, this spot is definitely worth checking out, if you're in the area.

Marianne Wynes Added 2018-10-15

★ ★ ★ ★ ★

Our experience has always been really pleasant here. We visited the inn to celebrate our wedding anniversary and they even remembered us. From the welcoming to the end of our trip everything was exceptional. Thank you!

Sandra Venneri Added 2018-09-01

★ ★ ★ ★ ★

Amazing getaway. This luxurious, historic hotel is so comfortable that you don't want to leave. A great escape in a small town away from the big, busy cities. The property has lush grounds. The rooms are large with tons of character and charm.

Tammy Rose Added 2018-08-14

★ ★ ★ ★ ☆

Was a nice small room...very clean....bed was comfy....only suggestion id make is to add a fridge to the rooms and complimentary breakfast ...
About westoverinn.com
Westover Inn | St. Marys | Ontario | Hotel | Lodging | Accommodations | Stratford Festival | Weddings | Restaurant
More than just a place to stay
westover, hotel, st marys, sr mary's. ontario, stratford, festival, theatre, Shakespeare Festival, inn, suites, rooms, historic, dinner, breakfast, lunch, dinner, brasserie, meetings, weddings, events